Autumn is approaching fast and I'll be perfectly honest with you, it's my favorite season of the year. I love the scenery as the leaves change, drinking apple cider, eating pumpkin pie, and fly fishing in the fall. In my area, this is some of the best fishing of the year. The waters cool down and the fish start to fatten up for winter. Some of the fish that prefer cooler water start to become active as well, and that's what happened today.
We had some pretty typical fall weather for a couple of days here in Northwest Ohio. It rained and we had temps in the high 60's/low 70's. I really wanted to get out today because I had a good hunch that the fish would be pretty active because the cold rain helped raise the river and cool it down as well, providing some good-quality oxygenated water. I grabbed the trusty 8 weight and went out to the Auglaize River to see if my hunch paid off. I noticed right off the bat that the shiners and shad were very active, which was a good sign! I shared the river today with a very nice gentleman who was very informative and very friendly. It sure makes fishing much more fun when you're sharing the river with nice folks. I noticed that there were fish busting the minnows just like striped bass, but my brain didn't compute what they were at first. Of course I didn't happen to have any "minnow-like" flies with me. I only had my Mud Bugs because I was after carp and catfish. I made a couple of casts with a peacock black Mud Bug and immediately caught two freshwater drum. However, these were not the fish actively attacking the minnows. After a few more casts, and a few more fly changes, I started getting hits on my UV black Mud Bug. I landed the first fish after two more casts and discovered the mystery fish. They were crappie! Lots of crappie! I started catching them right and left and the old fly rod was keeping pace with the gentleman using a spinning rod. I lost count after catching 30 of them. Many were nice sized as well. (7-11 inch range.) I also did manage to hook a carp, but he spit out the hook and I was a little disappointed. I also had the biggest channel catfish I've ever seen on the end of my line, but he spit the hook as well. I swear his head was as big as my arm.
All in all, it was a very good day. I don't believe I've ever caught that many crappie before in my life. I wish I would have brought my 6 weight this time though because an 8 weight is a bit overkill for crappie.
I'll leave you with some pictures from the day.
Auglaize River freshwater drum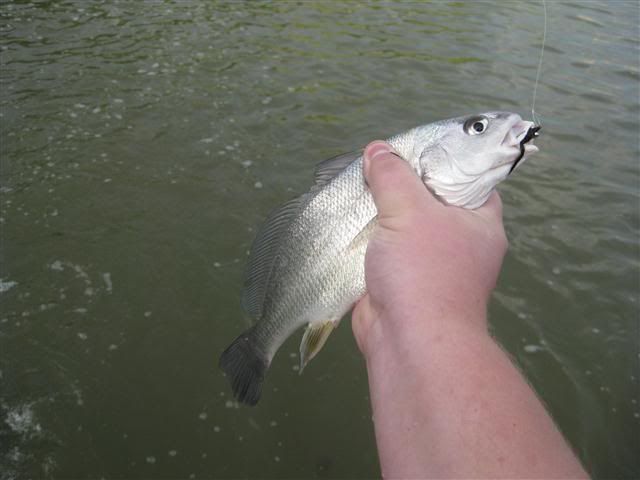 Typical Auglaize River crappie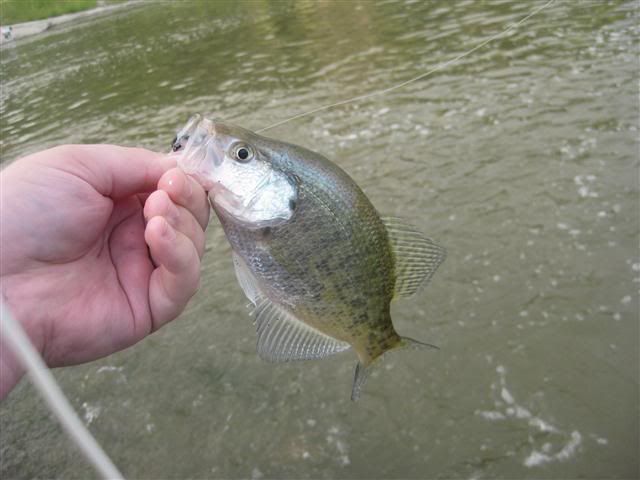 I'm still a little stumped over this one. I'm not quite sure how I was able to snag a shad.