Today was an exciting day to say the least. It was filled with some intense moments, but it still felt good to go out and cast a fly line. I just wish things could have gone a little better....
Before leaving, I had checked the radar and there was once small cell over the county I live in. I was going to take a trip up to a new wildlife area (New to me.) one county north of where I'm at. The weather radar indicated that the storm cell was not very intense and it was not where I would be fishing. I just had to drive through it. No problem. Wow, I was wrong. When I drove about 8 miles outside of town, it started raining pretty hard and I decided to keep on truckin'. Well, I was over halfway to my destination when it started pouring. Then, it started hailing. Here's the icing on the cake though. There was a tornado/funnel cloud about 200-250 yards away from me and I had nowhere to go. I've seen a couple of them in my life and I knew they weren't just any old clouds when I seen dirt start swirling around in a field! After narrowly escaping the storm, the weather turned nice and I arrived in one piece at my destination.
I was fishing the St. Joseph River in Williams County, Ohio. It's a nice river to fly fish. Lots of creek chubs, rock bass, smallies, cats, carp, and other assorted fish that will put a bend in a fly rod. It would be perfect for canoeing or kayaking because casting from the bank can be difficult. It's mostly roll casting territory and there's only so much I can do with a weight forward fly line. After eating up most of my tippet and leader changing flies, I decided to try one of the state lakes in the area. The St. Joe wasn't giving up any fish. It may have been the water temp, it may have been the weather in the area, or it could have been any of the other 500 million reasons fish just will not bite.
To top the day off, I climbed all the way up a steep hill, then slipped and rolled head-over-heels down a 20 foot hill covered in poison ivy and sawgrass. I managed to get up pretty quickly but I was still a little dazed from my tumble. I was pretty sore and quite flustered. I decided that enough was enough and I was going to catch a fish. I hobbled over to the state lake and caught a teeny bass and a small bluegill.
For future reference, I do not plan on going there anytime soon. I'll stick with my close to home spots that are easy to access and produce fish.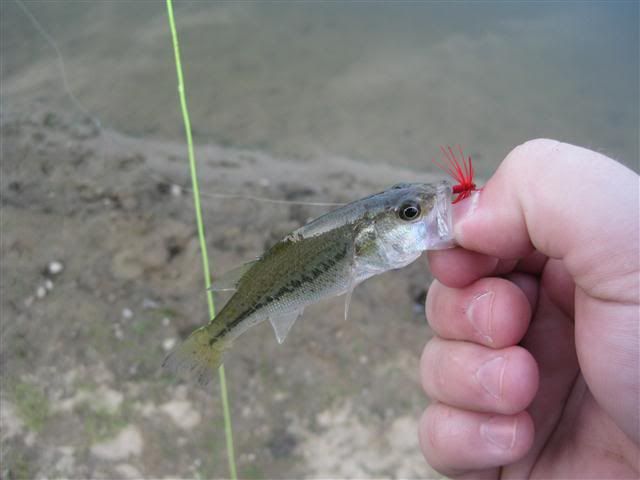 My reward.