To tell you the truth, I'm not sure which was hotter today, the fishing action or the weather. I was out and about doing my rounds, (Restocking my flies at some local bait stores.) and I had no intention at all of going out again because it was so hot out. Well, it cooled off a little in the evening, and against my better judgement, I decided to head out to the old hydroelectric dam on the Auglaize River. I packed up my 8 weight and took plenty of water with me because it was still pretty hot out. I wasn't thinking and grabbed my spare reel by mistake which has my patched up line on it and I had just realized it once I had gotten all the way to my spot. I was kind of bummed out because I really wanted to test out my new line.
The river was up a little bit more from the last time I was there because there was some rain and stormy weather down south (Upstream) a few days ago. I had one of my new Mud Bugs on and started casting towards the dam where there was some moving water. I immediately had a sharp take and hooked into a small 2-4 pound carp. After several runs and a surprisingly long fight, I had finally gotten the carp worn down and he was ready to land. Unfortunately, I also had forgotten one important thing. The net! So, I took a leap of faith and tried to grab him, but he came off of the hook and I had to watch him swim away. I hate it when that happens, but I'll get another one sometime.
I will admit I was a little disappointed losing a nice carp, but the channel catfish kept me plenty busy. (I will tell you right now, if you've never caught a good sized catfish on a fly rod, you're really missing out! The same goes for carp. Actually, any "rough" or "trash" fish for that matter. Buffalo, quillback, drum, and gar are amazing fighters as well.) Keep one thing in mind though when it comes to fly fishing for catfish; they tear flies up. Their small sandpaper-like teeth and strong jaws can tear apart feathers, chenille, and dubbing, so check your fly often.
I ended up catching 5 nice sized channel catfish and a bluegill. Strangely, the bluegill was hooked through the nose. I must have got him right when he was going after the fly or something. I ended up calling it a day after being soaked with sweat and getting attacked by gnats and other small and useless bugs.
I look forward to my next outing because I'm working up several more patterns and I've got a great feeling about them as well. So far, the Dubbin' Craw and the Mud Bug have definitely earned their keep in my warmwater fly box. I'll leave you with some pictures for now and until next time, tight lines!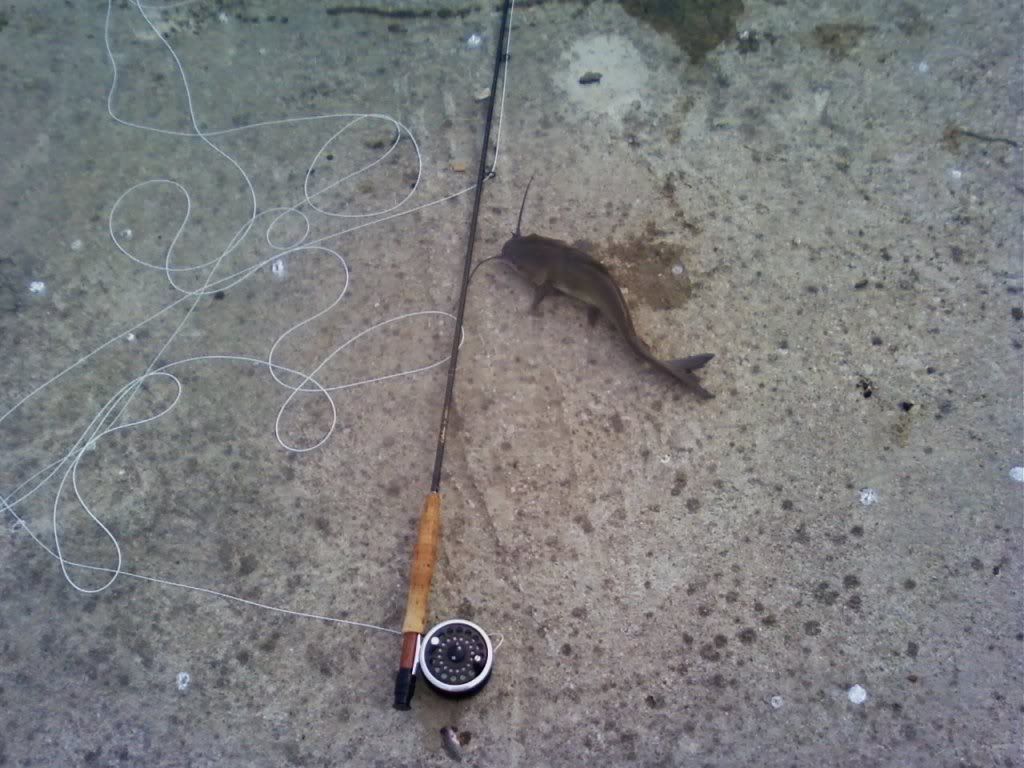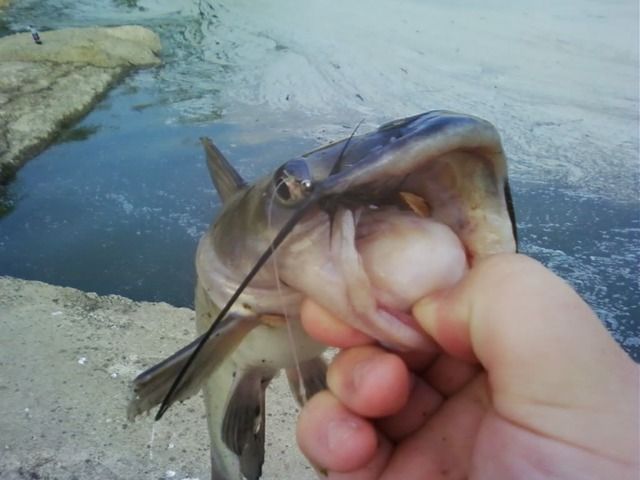 The Mud Bug strikes again!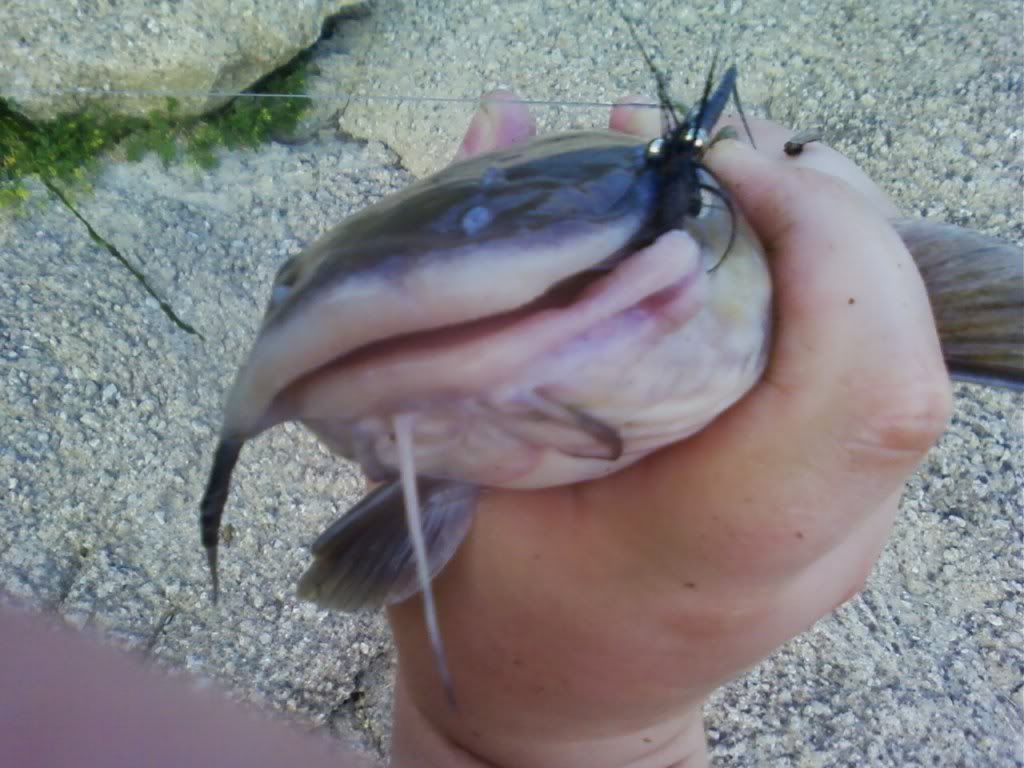 Channel Catfish taken on a Mud Bug. He did not want to let go of it either!
Bluegill taken on a Mud Bug.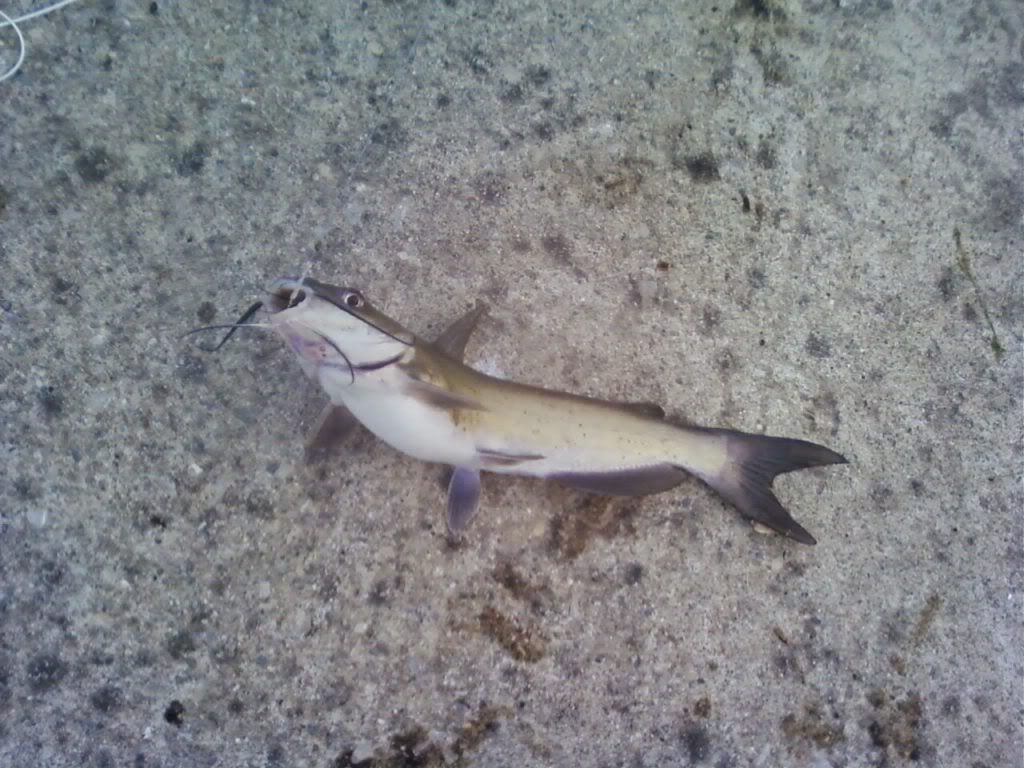 A very greedy channel cat.